We have prepared this Privacy Policy so that you can understand the care with which we intend to treat your personal data.
In general you can use the Adviser Portals website without telling us who you are or revealing any personal information about yourself.
In order to provide any services we have been engaged to undertake, where you are customer and Adviser Portals is supplier, we will need to collect a limited amount of basic personal data.
Where Adviser Portals collects personal data we will post a purpose statement that explains why such information is needed, how it will be used and request your consent.
The image below shows a representative purpose statement and request for consent. 

The remainder of this Privacy Policy explains more about our obligations under the General Data Protection Regulation (GDPR), how we will use and safeguard your data, and your rights in respect of the personal data we hold about you.
---
Who our services are for
Adviser Portals services together with the information included in this website, are not structured to attract children. Accordingly, we do not intend to collect personal information from anyone under 16 years of age.
---
What personal data we need
Adviser Portals Ltd will be what is known as the Controller of personal data you provide to us. Adviser Portals Ltd is a private limited company, registration number 04956110, registered office: 82 Reddish Road, Reddish, Stockport, Cheshire, SK5 7QU
We will only collect basic personal data about you, which does not include any special categories (sometimes referred to as "sensitive personal data"). Most of the information we require, pertains to the business we are providing services for, but some personal data is needed, which may include your name, telephone number, email address and your work address.
---
Why we need basic personal data
We need to know basic personal data in order to provide the services for which we have been contracted. If you do not provide this information we may not be able to fulfill our contractual obligations.
We will not collect personal data, unless it is necessary for the provision of services for which we have been engaged.
---
What we do with it
We will use your personal data to communicate with you about the status of the services we are providing. You may opt out of this communication, but may not have complete information about status of the services you have requested we provide for you.
All personal data we hold will be processed by our staff in the United Kingdom. Where data is stored on remote servers, the servers are located in data centres within the UK. We no longer offer email services, but any legacy services are hosted on mail servers located with the UK and European Economic Area (EEA). Microsoft exchange servers are encrypted using TLS.
We will take reasonable steps to ensure your personal data is stored securely and protected from unauthorised access or disclosure. These measures include TLS/HTTPS encryption, backups and limitations on network access.
---
What we WILL NOT do with it
We DO NOT use any of the personal data you provide for the purpose of automated decision making or profiling.
We WILL NEVER sell your personal data to third parties.
---
How long we keep your data
We will generally keep your personal data for a period of 6 years. If you consent to marketing (see "What we would also like to do with it" section below), any information we use for this purpose will be retained until you notify us you no longer want to receive the information.
---
What we would also like to do with it
Occasionally, we would like to send you information about our own products and services, by post, telephone, email or SMS.
When you register to use our services you will have the opportunity to consent to receiving these updates. You can also amend your preferences at any time by logging into the "My Portal" area of your account and amending the settings in the Privacy section.
For email marketing we use Mailchimp. If you consent to receiving our marketing via email, some of your personal data will be shared with Mailchimp.
For SMS marketing we use Twilio. If you consent to receiving our marketing via SMS, some of your personal data will be shared with Twilio.
The image below shows the "My Portal" facility we provide for our Users for the purpose of setting their marketing preferences.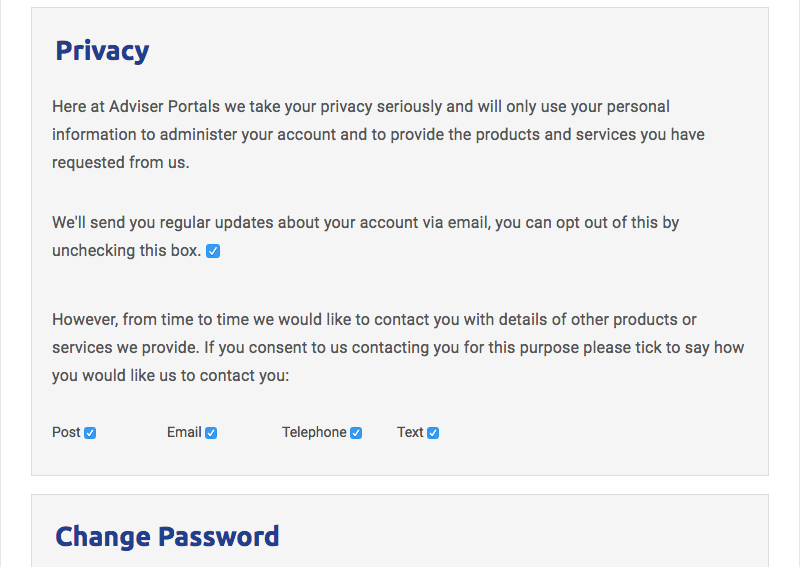 ---
Access and accuracy of your personal information
Where we have collected personal information, you may generally access it to check accuracy, as well as amend it, in the "My Portal" section of your account.
Any personal information we hold which is not accessible through this facility may be requested by emailing gdpr@adviserportals.co.uk. Any amends to this data may also be communicated via the same email address.
---
Removal of personal information
You may request that we remove your personal information from our systems by emailing gdpr@adviserportals.co.uk. Where personal information is held for the purpose of performing contracted services, it may no longer be possible to provide these services.
---
Your right to complain
Should you feel that we are not handling your data in accordance with the GDPR you have a right to complain within 30 days to the GDPR Supervisory Authority, which, within the United Kingdom is the Information Commissioner's Office (ICO).
---
Our commitment to your privacy
Adviser Portals is committed to privacy and supports current industry initiatives to preserve individual privacy rights. Protecting your privacy is an evolving area and so this privacy policy may be updated inkeeping with any new developments.
If you have any comments or questions regarding this privacy policy or our treatment of your personal data, please contact us at gdpr@adviserportals.co.uk